There is a clear distinction in the meaning of the terms artificial intelligence and machine learning in the technological lexicon even though they seem synonymous with each other, and are usually mentioned in the same breath by most people.

Distinction between AI and Machine Learning
Typically, artificial intelligence imitates human reasoning by unraveling, learning, and identifying intricate problems and sequences. Machine learning, on the other hand, is a mechanism that AI utilizes to strengthen its knowledge through repetitively performed tasks and data processing.
Machine learning uses big data to gain crucial insights so that increased data collection and review lead to enhanced predictive abilities of the machine learning programs. Machine learning driven by AI can stimulate technology to recognize standard regulated information and commit it to memory.
Machine learning, through analysis and mapping, can process huge amounts of data to locate a pertinent data entry, pinpoint its position, and incorporate the information into the knowledge base for future reference. This process is not unlike the immunological memory that gives our body's immune system the ability to identify a previously encountered antigen swiftly, and trigger an equivalent immune response in the body.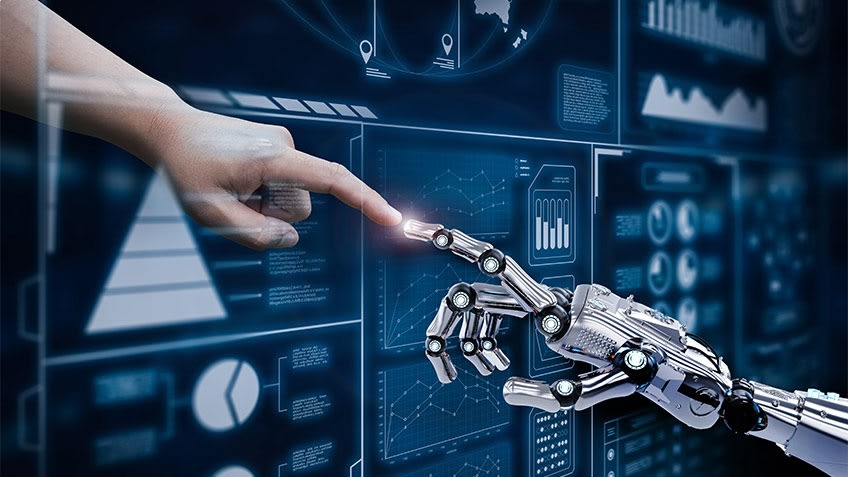 AI and Machine Learning Can Reduce Cost Overruns and Cycle Times in Mortgage Lending
Two of the toughest challenges faced by lenders in the mortgage industry are escalating costs and increased turnaround times. We can already see AI and machine learning making a difference in these two areas with their core competence in reading, assimilating, discerning, and drawing contextual inferences.
Machine learning and AI-powered technologies have the capability to perform readily scalable, dynamically effective, and operationally efficient functions. Machine learning can effectively handle many of the repetitive, time-consuming, and intrinsically error-prone human tasks.
Work, such as insurance coverage, income authentication, and asset verification are tailor-made for faster, more accurate, big-data crunching capabilities of machine learning. There is no limit to machine learning in terms of the time or energy it can expend to perform error-prone, repetitive manual tasks.
Automation of the manual processes using machine learning not only speeds up the mortgage lending operations but also boosts volume. Machine learning is already driving down lending overheads by increasing the mortgage loan processing volumes, and cutting down the risks by reducing errors.
AI, by identifying exceptions and problems, can prompt mortgage lenders to take quick, corrective action; thus, keeping the underwriting process moving rapidly and smoothly. Mortgage underwriters and lenders can apply more time and energy to problem-solving and focusing on irregularities and anomalies.
With machine learning applications and AI-driven technologies taking over the time-consuming manual work, the employees at a mortgage lending company can focus on providing a more positive and customized consumer experience, and improve transaction cycle times simultaneously.
Mortgage lenders can intensify their focus on broader growth strategies and value-addition, as AI and machine learning perform repetitive, manual tasks. As they build up volumes in their businesses and bring down the cost per loan, mortgage lenders can afford to invest more in marketing, infrastructure, and product development initiatives.
More AI-Powered Machine Learning Applications
Visual Recognition
AI can use visual recognition to image and file a vast array of documents typically evaluated by mortgage underwriters like property titles, tax returns, and appraisals.
Vendor Management
AI and machine learning can help mortgage lenders manage vendors. Analyzing cost and efficacy data, AI can recommend vendors that are most suitable for each loan.
Voice Integration
Machine learning applications driven by AI can automatically initiate communications with employees using interactive robots. This technology can review the information and evaluate results to advise lenders about issues that might need their attention. In addition, underwriters and processors can connect to a conversational interface to request for information they require, to help push a loan through the origination process quickly.
Machine Learning Can Enhance Customer Service
AI applications in online retail and other industries are showing the way in terms of personalization and speed. Targeted recommendations based on data analysis in real-time, and faster service through chatbots are just some of the examples of the march of AI-driven machine learning technologies.
The mortgage lending industry could take a leaf out of the online retail business to augment borrower's experience leveraging voice capabilities of AI-powered applications. Lenders can employ a virtual assistant to engage with customers, answer their questions, and guide them in the application process, to enhance customer service.
Machine Learning Can Help Propel Knowledge-Economy
Any discussion related to AI and machine learning brings up the question of this technology's impact on jobs and its repercussions on employment opportunities. It may be hard to predict machine learning's influence on the job market because deployment and utilization of AI-powered technologies are still in their nascent stage, and differ from company to company.
However, it seems clear that companies need to develop, and nurture specialized skill sets in their employees to support this revolutionary change in technology. In the context of the mortgage industry today, AI can turn professionals into knowledge workers, and not just task enforcers. Machine learning can help the employees in the mortgage underwriting and lending industry to spend less time on repetitive manual work, cutting out errors and adding value to the company in particular, and the industry in general.
The Future is Intelligent
The average cost of a mortgage loan origination is excessively high, and the average time taken to close a loan is 41 days. In the mortgage lending industry, the power of AI and machine learning can:
Manage the complete POS process
Communicate with an applicant directly
Explore a lender's portfolio for prospects
Offer customized loan or credit solutions
Detect non-compliance and raise flags
Enhance efficiencies and reduce costs
Use voice integration to help staff and customers
AI-Driven Automated Machine Learning Systems from Fundmore.ai
AI and machine learning hold great promise for the future of the mortgage lending industry. Lenders that embrace the innovative technologies will reap the benefits in a new era of excellence, with reduced origination costs, improved turn times, and added value in every area of the business.
Suitable and customized AI-powered machine learning platforms can automate and cut down on costs. Fundmore.ai designed automated underwriting system that uses machine learning to reduce risk and wastage, enhance customer experience, and improves cycle time. To learn more about how we can help you improve your lending business, fill out this online contact form and our team will get in touch with you soon.